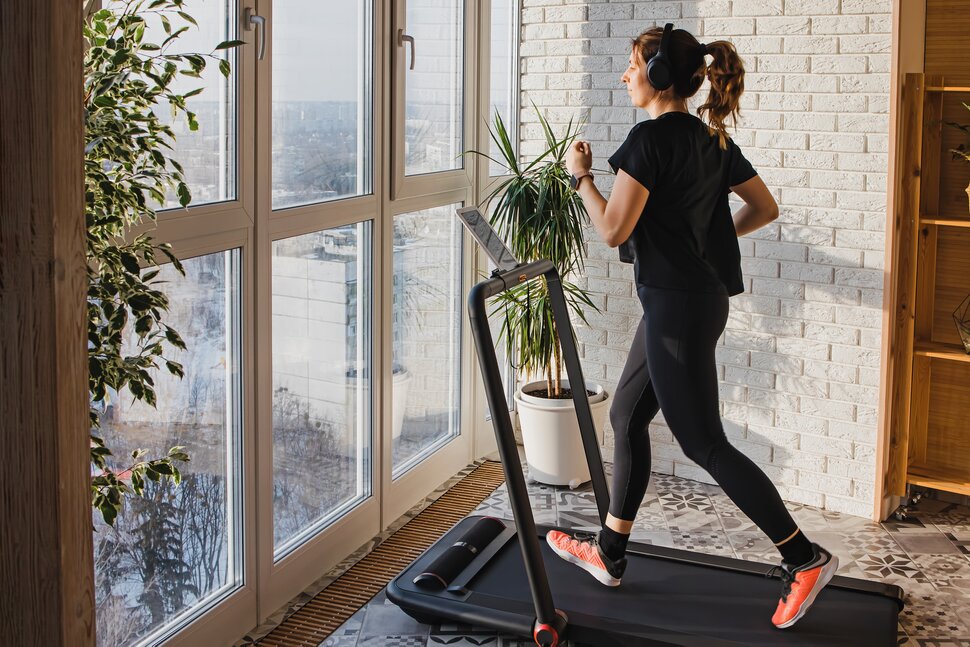 Adding walking and jogging as a part of your workout routine is the easiest way to build fitness and ensure your health. However, a busy work schedule, bad environmental conditions, or avoiding more socialization (due to COVID-19) may hinder your exercise. The latest home treadmill can help you achieve your fitness goals despite all the odds. It offers a variety of workout programs, and its features will keep you motivated, moving, and enjoying your journey.
Are you ready to take your experience to the next level with the treadmill? Here's everything you should know to start workouts at home with the treadmill.
Treadmills are primarily used at home and the gym for aerobic exercises. Moreover, they are one of the most spectacular pieces of exercise equipment that has a smooth belt driven by a particular motor. The surface that loops around the machine allows you to walk or run. The purpose of the treadmill is to give the best experience of indoor exercise while benefiting your whole body. There are a lot of debates on whether exercising on a treadmill is good for health or not, as everything has advantages and disadvantages. The treadmill gives a range of benefits. However, it has demerits too.
Pros of the treadmill at home
Easy to use
The surface of the treadmill is smooth and cushioned
Easier on joints and prevent injuries
You can control the type of exercise; speed, inclined, warm-up. cool-down, and energy speed
Help you train for races and marathons or act as a warm-up for other exercises.
A user can customize different workout programs.
Fitness can be tracked because of step counter and heart rate monitors
You can burn more calories on the treadmill than on any other type of exercise equipment
A treadmill cardio workout is the best to lose belly fat and weight loss
You can multitask
Cons of the treadmill at home
Buying the latest and good treadmill can be costly
Despite the smooth and cushioned belt, it may get a jarring effect on your back, core, and limbs
It may need a professional to set computerized program
It gives fewer agility benefits
You lack variation
The treadmill gives you limited kinds of workouts - walking and running
It can be boring inside the home
Other benefits of exercising on a treadmill
Weight loss
Perhaps, quick and effective weight loss is an essential health benefit of the treadmill. It helps you burn extra calories than other cardio exercises. Moreover, the more you work out on the treadmill, the more you burn fat. Of course, the best way to reduce body fat or weight is training through HIIT workouts. However, the low-intensity treadmill workout gives you slow results.
Heart health
Working out on a treadmill aids your cardiovascular strength and endurance. It significantly improves your heart health. Moreover, it helps you maintain a steady heart rate throughout the exercise. However, treadmill exercises increase your heart rate significantly, which as a result, boosts your ability to perform other activities effectively.
Muscle tone
Exercising on the treadmill is a full-body workout that engages a group of muscles. The muscles in the abdomen, back, buttocks and arms remain active while the muscles in the leg bear the burnt during the workout. Therefore, maintaining a proper and ideal posture while running or walking on the treadmill is essential.
The treadmill workout works majorly on the lower body and cardiovascular system. The primary muscles involved are;
Core muscles
Hip flexor
Quadriceps
Hamstrings
The calves
The glutes
Running Vs. walking on a treadmill
The treadmill's incline feature allows you to switch between high-intensity workouts, all-out activity, and low-intensity workouts. Moreover, HIIT workouts on a treadmill can intensify your exercise, let you experience a different training level, and positively affect your body.
Both running and walking are easy and essential cardiovascular exercises. However, to burn more calories instantly, running is the better way. If you have a goal to lose weight, then running is a great choice, but do not rush to reach the maximum level; instead, go with an intensity that suits you initially, and then do it vigorously.
Generally, walking is moderate in intensity, and running is a vigorous activity. This is because you breathe fast, and with an increased heart rate, you perform the high-intensity exercise while moderate activity is two times lesser.
There are some significant differences between running and walking on the treadmill.
Calories burn - running helps you burn more calories than walking
Running is a high impact exercise, and walking is a low impact
Risk of injuries - studies showrunners that high-impact workouts cause more injuries than walkers, such as Runner's knee, plantar fasciitis, Stress fracture, Achilles tendonitis, Shin Splints, or Iliotibial band syndrome.
The best workouts on the treadmill to burn fat
Incline treadmill sprints
Incline treadmill walk
Incline run or walk intervals
Treadmill sprints
Click Here to know details about the activities.
HIIV treadmill workout
What are HIIT treadmill workouts?
HIIT is abbreviated as High-Intensity Interval Training, and HIIT treadmill workouts are specifically designed for switching speed or intensity of work with a regular interval.
Here's a simple and quick 10-minute HIIT treadmill routine:
Walking for 2 minutes - walk at a comfortable speed but do not go slow
Jogging for 1 minute - race with a maximum pace and do not push yourself too hard
Walking for 2 minutes
Sprinting for 1 minute
Walking for 2 minutes
Sprinting for 1 minute
Walking for 1 minute and wind up your workout
NOTE: remember to do warm-up and cool-down.
Hence exercising on the treadmill is an excellent and easiest way to do aerobic exercise. Choose the type of workout which best suits your current fitness and aids your future goal. However, walking can be a smart choice if you are a beginner on the treadmill and when your goal is to lose a few pounds of fat then go for running. Moreover, the treadmill gives many benefits to your body, and it's one of the most convenient ways to enhance your cardiovascular system.
Let's begin the fitness journey at home with the treadmill.